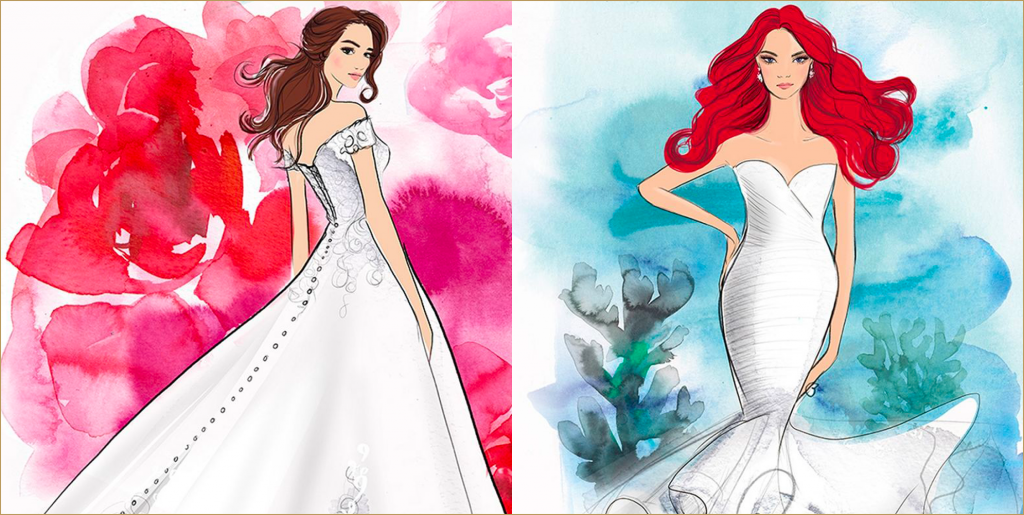 How to Take Your Disney Themed Wedding to the Next Level
Nothing screams romance like a handsome prince charming, gorgeous princess, and a little bit of magic. Now what has all of this fabulousness in one place? Disney! Disney is one of our favorite wedding themes here at Castle Couture. (It's almost too fitting!) This blog post is going to be for all of our Disney lovers and give them all our favorite Disney wedding ideas. We are going to cover decorations, favors, accessories, and more!
Accessorize in Disney!
Your wedding day is truly focused on the bride and groom, which means all eyes will be on the two of you, so for both of you to look your best is a must! Some of our favorite touches of Disney to tie in with your look is in your shoes. Heels (or even sneakers!) with Disney decals have us totally gushing. It makes for a great photo op and an adorable way to tie in your whole Disney theme even further. More options for the bride's accessories would be to wear some simple Disney-themed jewelry. Whether you want to do a simple Minnie Mouse stud, a bangle, or a simple charm necklace, it's so easy to elegantly blend it in with your whole look. As for the groom, we are loving the looks of these fun cufflinks and adorable socks.
Disney Wedding Favors
We are always reminding our brides that one of the most special parts of your wedding day is the time that is shared with your loved ones. Family and friends take time to travel and celebrate the love you and your significant other have for one another and nothing could ever top that. That's why we think it is so important to thank them in a creative and meaningful way! Coming up with a wedding favor that is something they'll not only enjoy but want to keep forever to remember your big day is such an honor.
When hosting a Disney wedding, here are some adorable favor ideas that your guests are bound to love. We found these charming Mickey Mouse Key Bottle Openers and thought it would be such a great addition to any wedding. If you're looking for a more customized wedding favor, try doing engraved glasses or fun, celebration buttons! Disney is famous for gifting their visitors buttons to celebrate their birthday, first time in Disney, anniversary, and so much more. Creating a button that celebrates the marriage between you and your love is adorable and totally on-theme for us Disney lovers!
Disney Wedding Gowns
At Castle Couture, we do not think that only one certain style of a wedding gown fits a Disney theme. Each Disney princess is so unique and beautiful in her own way, just like our Castle Couture brides. As long as you find a dress you love, that gown can fit into any theme you are going for! But if you are looking for that truly Disney-inspired gown, Allure has recently announced that they will be launching their Disney Fairy Tale Weddings Collection. This amazing collection was inspired by Disney Princesses and is really designed for that classic princess bride style. They have a gown for nearly every popular princess and styles that will cater to all looks.
Disney Decorations
Now that you have your look and the gifts for your guests covered, it's time to decorate for the wedding! Centerpieces are everything when sitting at the table, so you need to make sure to wow your guests. This Beauty and The Beast-inspired centerpiece is everything and more. It is romantic, gorgeous, and a perfect size for your guests to still enjoy the company of their table and being able to chat directly across from one another. Another Disney-inspired centerpiece would be to use a mid-sized Cinderella's carriage as a table runner as a perfect way to engage your theme.
Now that your tables are perfectly filled with Disney, it's time to take a look around the rest of the reception. You can find simple Disney-inspired cake toppers, engraved champagne flutes, or even get creative and name your guests' tables! For example, instead of the basic "table 1," you can turn a table into "Space Mountain" or "Princess Aurora." You can even go as far as turning your average guest book into a "Be Our Guest" book.
Our store manager, Caitlin Arvanites, is the biggest Disney guru we know. Arvanites spent her big day in Disney celebrating at the Wedding Pavilion and having her ceremony at the Grand Floridian. We wanted to know what made her choose Disney and her answer made us fall in love with this entire wedding theme! "Disney is more than just a place; it is a feeling that you have when you are there. It is known as 'The Happiest Place on Earth' where magic happens every day. Why wouldn't you want to get married here?"
---
If you are as big of Disney fans as we are, send an email to PR@castlecouturenj.com and let us know how you are planning your Disney-themed wedding!