Happy (almost) New Year to our Castle Couture friends and family! The last week of the year is always the best: It is the perfect time to reflect on all you have accomplished, plan for the future, and – what's even better – most of us have a day or more off from work! There is always so much joy that surrounds entering a new year, let alone a new decade. Here, we're going to break down our favorite New Year's Eve wedding trends.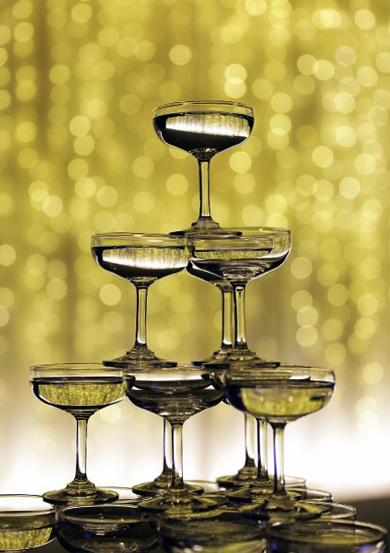 Fun Favors
There is no better way to ring in the new year than with friends, family, and the love of your life. No item could ever thank those beloved people for taking the time out of their schedules to celebrate with you, but you can certainly try! One of our favorite favors for a New Year's Eve wedding is engraved bells your friends and family can use to ring in the new year. This is a fun, festive way to share a memory while also celebrating this international holiday. Another way to thank your guests for celebrating your wedding and New Year's would be to give mini bottles of champagne with custom labels. Champagne, the alcoholic beverage that is famous for toasting and celebrations, is a great memento for your guests to keep or pop open to celebrate!
Divine Decor
Remember, you only have seconds to make a first impression, so make it count! This is your time to pull out all of your creativity and truly give them that "wow" factor. One décor idea our Castle family has fallen head over heels for is a stunning, black and gold color scheme. This allows you to have an elegant, classic wedding with a hint of the holiday thrown in. This can give you an array of decor opportunities such as a champagne tower or a string lights gathered on the venue walls in place of up-lighting, and your options for customizations are endless.
An easily personalized décor item is glitter signs with your wedding date (these pieces are great because they can transition into your home). Another fun way to incorporate the New Year's holiday theme into your wedding is with the use of clocks. Now, it may sound strange, but there are many opportunities to incorporate this idea into your event. The focus of this night is, of course, around you and your significant other, but it is also about when the clock strikes midnight. Having a "clock wall" for a photo prop moment or corks with the hands of the clock striking midnight is what brings even more excitement and creativity to your wedding.
The Gowns for Your Big Night
Your bridal gown is one of the most exciting parts of planning your big day. When you go shopping, you have so many different options regarding the look you want when you make your debut down the aisle and what to dress your bridal party in. Let's start with the most important gown of the night: Yours!
Our favorite bridal look for a New Year's Eve wedding is something that is sure to bring the drama, which can include lots of bling and be unique. A designer who is famous for this glamorous bridal style is Stephen Yearick. Stephen Yearick wedding gowns often include detachable trains, capes, sheer bodices, and extravagant veils.
Although your look is the center of your guest's attention, the night would not be complete without your best friends by your side. Some great, New Year's Eve bridesmaid looks include a stunning, glitzy, gold dress with simple accessories or a satin black gown paired with gold accessories. Your bridesmaids are there to support you and tie your whole look together. Some of our favorite bridesmaid dress designers are Hayley Paige and Jessica Angel. Both lines feature simple bridesmaid gowns that come in a variety of colors and silhouettes.
The possibilities are endless with a New Year's Eve wedding. It is truly the night of many firsts and the start of your happily ever after!