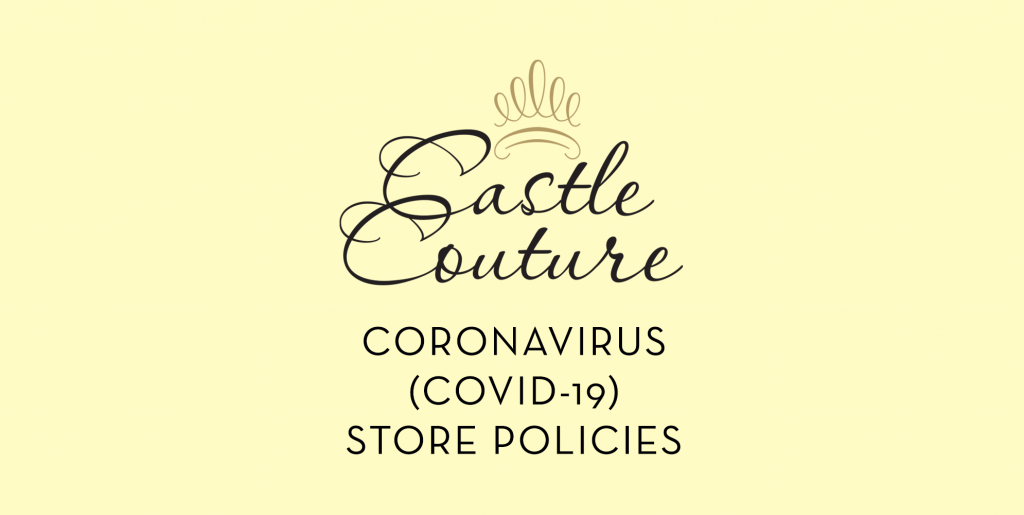 We're so excited that Castle Couture is NOW OPEN with our usual store hours!
We have a few announcements and details about the Covid-19 precautions we are taking to protect you, our staff, and the community.
APPOINTMENT REQUIRED
An appointment is required for all departments, including pickups.
MASKS REQUIRED
All guests and staff at Castle Couture will be required to wear a mask that covers the nose and mouth at all times.
TEMPERATURE CHECKS
All guests and staff will have their temperature checked upon arrival at Castle Couture. Any guest with a temperature of 99.4 degrees or higher will be discreetly informed by our staff and alternate arrangements will be made for your appointment.
NUMBER OF GUESTS
Bridal appointments: Limit of 3 guests
Alterations appointments: Limit of 1 guest
Accessories appointment: Limit of 1 guest
Pickups: Limit of 1 guest
SOCIAL DISTANCING
Observe social distancing by maintaining a distance of no less than 6 feet from people who are not in your immediate party.
APPOINTMENT REQUIRED FOR ALL DEPARTMENTS
Don't wait to make your appointment: Occupancy restrictions mean that space will be very limited!
Online appointment form: https://www.castlecouturenj.com/t5356/appointments.html
Call to book: (732) 617-1414
---
Castle Couture has taken enhanced health and safety measures for our customers and employees. You must follow all posted instructions while visiting our establishment to ensure these safety measures. This includes, but is not limited to, wearing face masks at all times, temperature checks, and social distancing.

An inherent risk of exposure to COVID-19 exists in any public place where people are present. COVID-19 is an extremely contagious disease that can lead to severe illness and death. According to the Center for Disease Control and Prevention, senior citizens and customers with underlying medial conditions are especially vulnerable.

By visiting Castle Couture, you voluntarily assume all risks related to exposure to COVID-19.