Veils 101: How to Find the Perfect Veil for the Perfect Day
There is so much to do when it comes to planning the perfect wedding day. From finding the perfect venue, dress, ring, and, of course, the perfect soul mate, it can be easy to overlook some small but majorly important details. This week we're going to chat about all things veils and everything you need to know when shopping for one.
A Style for Everyone
Each and every bride is unique, and it's so important that she has a veil that will express her special qualities. Here we will break down the different lengths, styles, and looks you can rock on your special day.
We chatted with Castle Couture's Accessories Manager, Cathy Fratangelo, to see what advice she had to give for brides that are still in search of a veil. "My advice is always to be open-minded and remember to have the gown as your main focus. I like to think of accessories as the 'icing on the cake'; it is what really ties a look together. I always tell my brides to try on different things, because pictures are forever, and this is how you want to be remembered."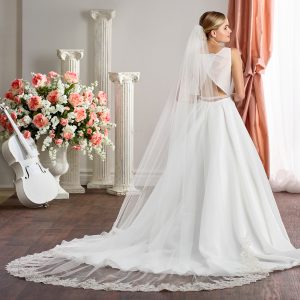 The Princess Bride
If you're the bride who is looking to truly tie in the fairy-tale factor on your big day, nothing screams "happily ever after" more than a cathedral veil. These veils can be beautifully embellished with lace or beadwork and drape so elegantly behind you as you walk down the aisle to the love of your life. They can range from 117 inches up to however many feet you would like, as long as time permits for customizations. These veils are the perfect amount of drama and elegance all in one.
The Classic Bride
If you're not looking for the drama and are in search of a more timeless, classic look, then a fabulous fingertip veil may be the perfect style for you. Fingertip veils, just like cathedrals, can range from being heavily embellished or have intricate lace to a simple tulle. A hot style in the world of bridal is wearing a crystalline tulle on your big day.
The Custom Bride
One of the most fabulous things about your wedding day is that you have the luxury of making every call and picking out every minor detail. This rule especially applies when it comes to your gown, veil, and jewelry. One of the most exciting parts about accessory shopping is that this is your chance to tie in your whole look to be everything you have ever wanted. Here at Castle Couture, you can to sit down with one of our stylists and describe exactly what you're looking for when it comes to not only your veil but your headpiece and jewelry as well. We can customize just about everything and anything: Whether it is the length, extra appliqués, a change in beadwork, or anything else you could imagine, we are able to personalize your look to make a one-of-a-kind piece for you.
Not Just Your Basic Ivory
While on the topic of custom pieces, not every bride has that luxury of picking out every small detail for her big day, usually due to time. We always recommend that a bride purchase her veil at the same time as her gown; this way, you can ensure that the two are a perfect match. If you don't think you have the time to select your accessories the day you find your dream dress, we still have you covered. We have nearly everything in stock, including white, ivory, champagne, and even black veils that you can try on when it is time to pick up your gown. This is something we pride ourselves on because we are able to help each and every one of our brides at the moment she is ready.
Blusher vs No Blusher
These are veil questions that brides ask more often than not: Are blushers in? Does she have to wear them? Is it a tradition? Our job is the ensure and remind you that this is your special day and there truly is no style that is "in" anymore. Each bride is extremely unique and so are their wishes for their wedding day. We tried getting to the bottom of the blusher versus no blusher debate and reached out once again to our Accessories Manager, Cathy Fratangelo. Cathy concluded that about 75% of our brides decide not to wear a blusher down the aisle, while the other quarter continues to rock this style on their big day. One trend she did note in regard to the brides who choose to wear blushers is that they prefer a style that is longer than the blusher that their mothers may have worn.
Common Questions About Veils
I didn't purchase my veil the day I bought my wedding dress, can I still shop for one?
Yes, you can. Stop in anytime during store hours to work with a skilled stylist and find the veil that suits you and your gown best. Keep in mind, it can take about four to five months for certain styles to arrive.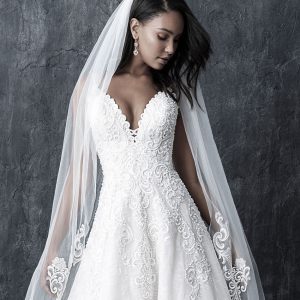 How long does it take to order a veil?
A standard veil can take about four months to come in and a customized veil can take about six months to arrive.
Do I wear my veil all night?
You can do whatever you prefer, but a majority of our brides do tend to take the veil off after the ceremony. This way, they can take photos with the veil, say their "I dos," and still be able to dance the night away!
If you're interested in setting up an accessories appointment, give us a call at 732-617-1414 and we would love to help you find the perfect veil!
*Veils and gowns pictured may not be in stock.