Recently engaged or planning to attend your best friend's wedding or other special occasion requiring formal attire? We have you covered! It is time to grab your besties and start shopping. One of the most exciting parts about weddings is the joy that comes from going dress shopping with your closest friends. With so many designers and so many options, it can be overwhelming to find the style that complements you best.
When choosing the best weekend to go dress shopping, we wanted to deep dive into all the incentives and excitement that can come from joining your favorite designer at a trunk show weekend! Although this article is discussing bridal trunk shows specifically, the information in it applies to evening wear and prom trunk shows, too.
What Is a Trunk Show?
Let's start with the basics: What is a trunk show? Why do I want to attend one? Trunk show weekends are special because this is when a designer will bring in a selection of gowns which are the top sellers or the newest arrivals to their collection. Most stores don't have these particular dresses in stock yet and this is the perfect opportunity for you to try on your favorite designer. This is also a fabulous opportunity for you to be one of the first to see the designers' newest looks for the upcoming season as well as finally wear that gown that you've been dreaming about. If you are already head over heels for a designer such as Allure, Matthew Christopher, or Hayley Paige, a trunk show is your chance to chat with their rep (or maybe even the designer!), try items from their latest season, and find the dress of your dreams!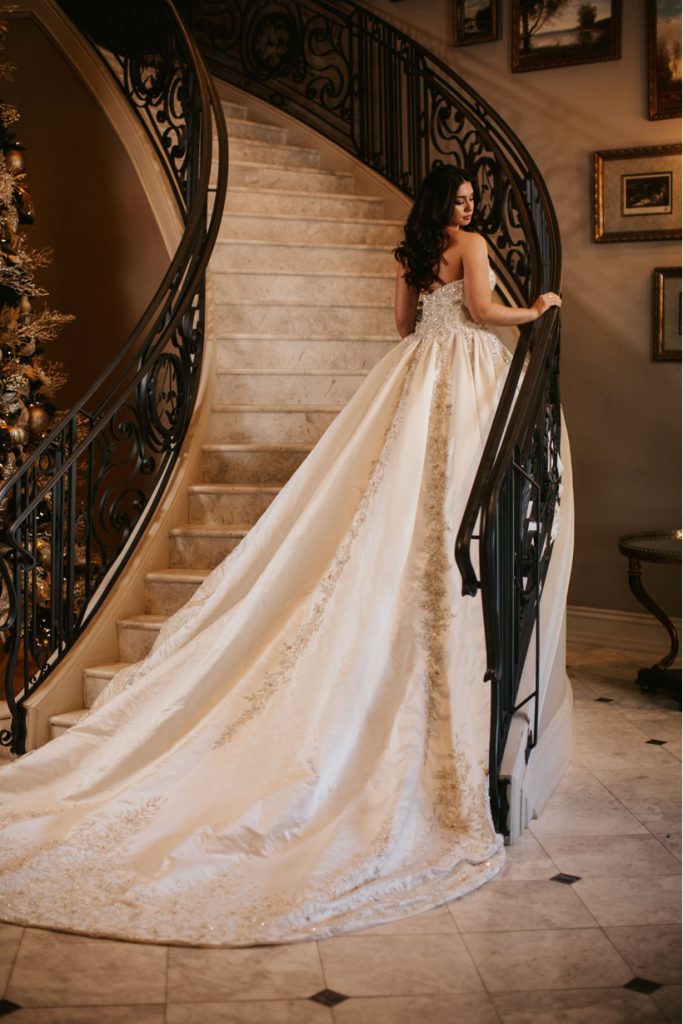 Benefits of a Trunk Show
When it comes to bridal gown shopping, almost every bride begins to go overboard when it comes to pinning, reposting, and saving all her favorite styles and designers on social media. The beauty of a trunk show is this can be your chance to turn your Pinterest board into a reality. You have the opportunity to meet with the designer or representatives to make custom changes, design matching veils, or take home some fun designer swag!
Our stylists love trunk show weekends for just as many reasons as our brides do. They get to see all the latest styles, make our brides' dreams come true, and hear the stories behind each one of the dresses whenever a representative comes to work with us. Jody Alvino, one of Castle Couture's senior staff members – who has been working with our brides for nearly eight years – spoke with us about her favorite part of trunk show weekends: "My favorite part has to be giving the bride a broader selection of the designer that they love with all the latest styles."
Common Trunk Show Questions
Most first-time bridal shoppers are not always familiar with what exactly a trunk show is and that is the exact reason why we felt it was so important to sit down and talk with our beautiful brides about it. Below we answered some of our most commonly asked questions when it comes to all things trunk shows.
Do I need an appointment?
Yes. In order to shop in our bridal department, you will need an appointment whether it is on a trunk show weekend or during the week. This is important because you will work with one of our expert stylists one-on-one and have someone answer every question you may have.
Can I try on other bridal gowns during my appointment?
100% yes. The bridal appointment you have during the trunk show weekend will allow you to try on not only our trunk show gowns but all the bridal gowns we have in the showroom.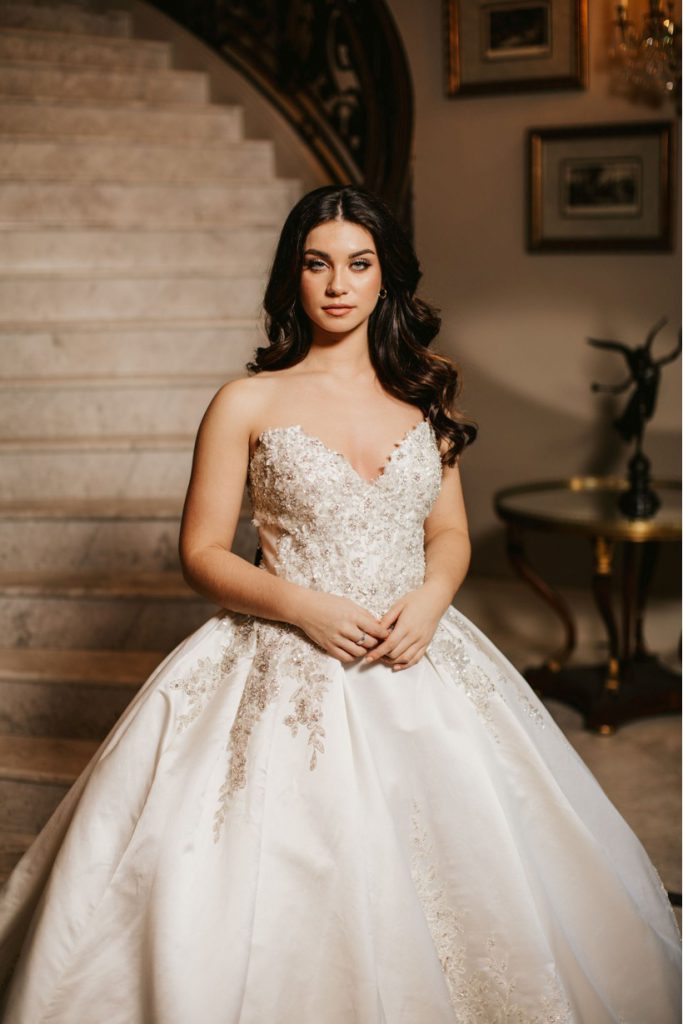 Am I buying the stock piece?
No. As long as timing permits, you will be able to order a brand-new gown. As trunk show gowns are a selection of newer pieces that the brand has created, the gowns typically travel around the country from store to store nearly every weekend. (Another reason to be ready to say yes: these dresses leave our store on Monday!) We will place a special order your gown, which will not only be brand new but be a much closer fit to your body than the stock piece.
Will I be able to try the trunk show piece again?
This is one of the most common questions we receive, and it hurts us to say you cannot. As previously mentioned, these gowns are here for one weekend only. After our last appointments on Sunday afternoon, the dresses are prepared to be shipped to the next store where the next set of lucky brides get to try on these beautiful dresses.
Can I customize the trunk show gown?
The beauty of working with bridal gowns is that because they are designed for you and your big day, nine times out of ten you will be able to customize a trunk show piece, whether this means adding sleeves, extra buttons, or even more bling. The possibilities are endless! This can be even more exciting when working directly with the designer on this special weekend because the creativity that flows out of them is truly magical.
If you are interested in booking your bridal appointment for an upcoming trunk show, make sure to give us a call at 732-617-1414 so we can get you one step closer to your happily ever after!