How to Achieve the Perfect Bridal Hair & Makeup
Achieving the perfect bridal hair and makeup is just as important as finding the dress of your dreams. Just like shopping for gowns, there are so many options and all can set a completely different mood and look for your big day. Below are our favorite looks that would look stunning on nearly any bride!
The Classic Bride
This look consists of a gorgeous smoky eye, classic red lip, and soft complexion with a soft updo. This look is one of our favorites and most universal. A red lip symbolizes power and confidence, which is exactly what every bride will be exuding on her wedding day! Although this lip is a stunner, you do need to be wary of it staining, especially when you're in your wedding gown. Finding a great matte formula is an easy way to avoid this issue and still pull together this classic look. Next would be creating an elegant smoky eye. Many brides get nervous when they hear the idea of using a smoky eye on their big day. This is because so many times it is assumed this consists of shades of grays and blacks, but that is not always the case! Makeup artist Monica Case chatted with us about what exactly a smoky eye is and how to achieve it. "A smoky eye is when your eyeshadow is darker and more defined at the lash line and at the outer corner of your eye. The lightest part should be the inner corner to open up your eye and the darker tones on the outer corner will add sultriness and elongate the eye." Our next suggestion would be to create a softer complexion considering you'll be rocking a bold eye and lip already. Ask your makeup artist to use a medium coverage foundation with a neutral finish. This foundation works well with so many skin types because a neutral finish will blend in beautifully whether you have oily or dry skin.
When it comes to the classic bride's hairstyle, we imagine a gorgeous updo. This can range from buns or high ponytails. Regardless, it is a beautiful way to show off your gown, makeup, and, of course, yourself!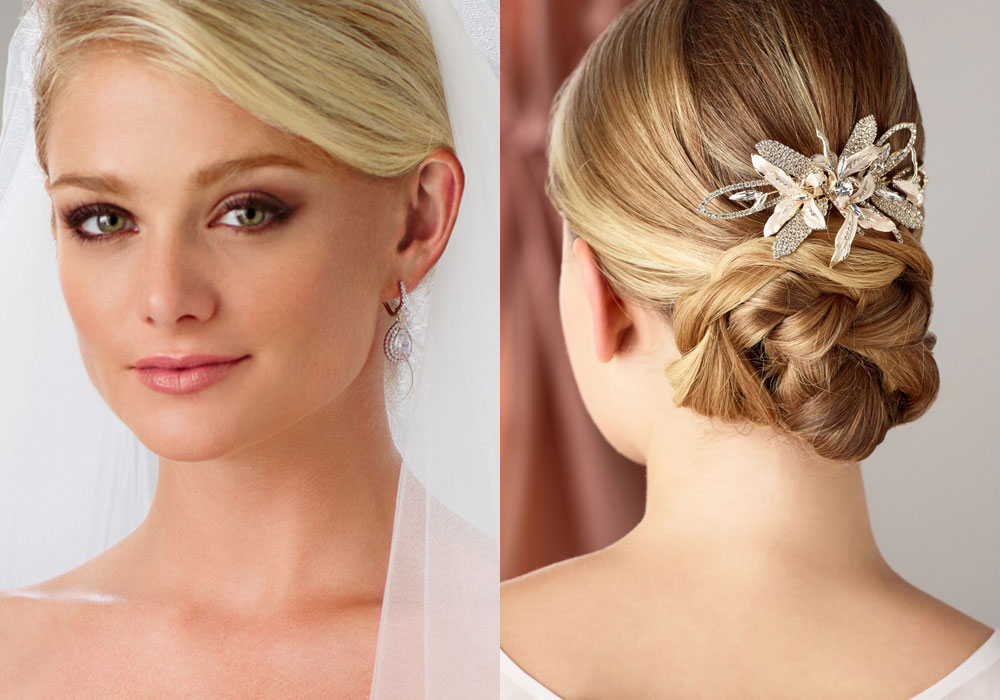 Classic bridal makeup. Veil and hairpiece by Edward Berger.
---
The No-Makeup Makeup Bride
This look is for all our brides who may not be into all the glitz and glam but still want a little extra something on their big day. A no-makeup makeup look will have a light coverage foundation, a little liner, and a clear gloss to plump your lips. The light coverage foundation will quickly smooth out any imperfections you may have (we know how those zits love to sneak up right before any big event!), especially if you use a formula that has a dewy finish. A dewy, light coverage foundation is fabulous for that no-makeup-makeup look and will give you a beautiful glow. Compared to our classic bride who would be wearing a bold lip, this look may have a simple gloss over a nude lipstick. To tie this look together, we recommend a bit of eyeliner and a great mascara to lengthen and curl your lashes! After your makeup artist has mastered the makeup look you want, the next thing to focus on is how you want your hair to be styled. For this effortless look, the same theme should be carried into whatever hairstyle you choose. For women with long hair, we suggest that you have your stylist create long, loose curls to give you a finished yet effortless style.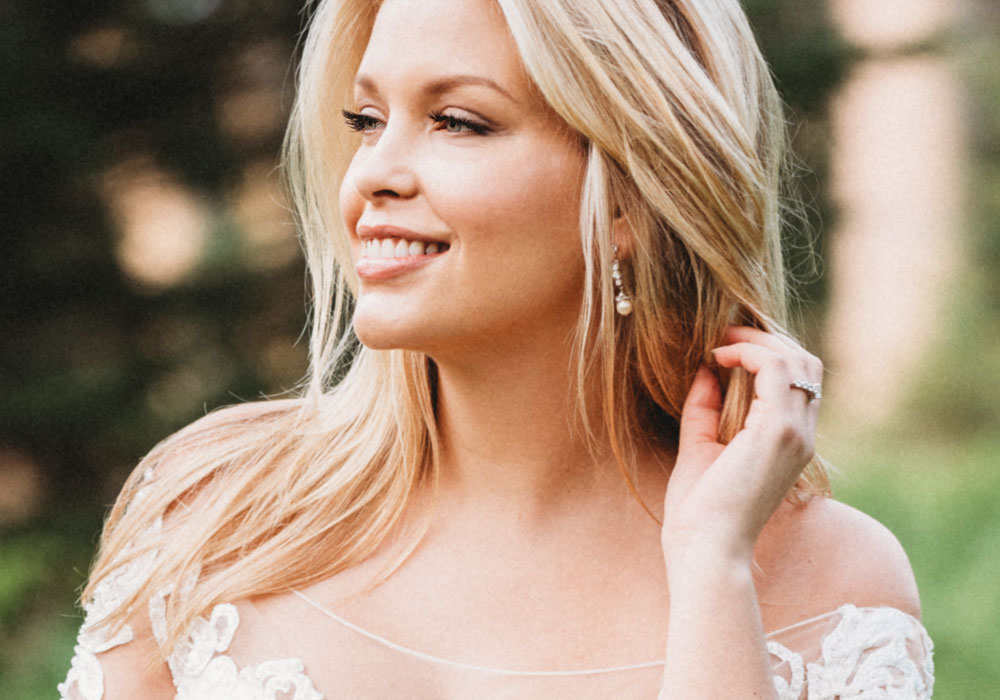 No-makeup wedding gown by Allure Bridals.
---
The "Natural Glam" Bride
A "natural glam" bride is one who wants to look like herself but enhanced. She wants to show off all of her best features but does not want to look like a totally different person. A look like this may include a medium to full coverage foundation, a beautiful neutral lip, and fun lashes! A set of full falsies can really bring together your bridal makeup look. A pair that is shorter by your tear duct and then flares out by your outer corner can give the illusion of larger eyes. Monica gave her opinion on what comes to mind when a bride requests a natural glam makeup look on her special day. "Every bride wants to look beautiful on the day of their wedding and some brides worry that makeup may be "too much" because they want to look like themselves. I always try to emphasize their strong features and I recommend a natural glam [look] because it includes a flawless face and soft on the eyes. I do suggest doing more coverage on the face to give a smooth, even finish. I always want my brides to feel so beautiful on their special day!"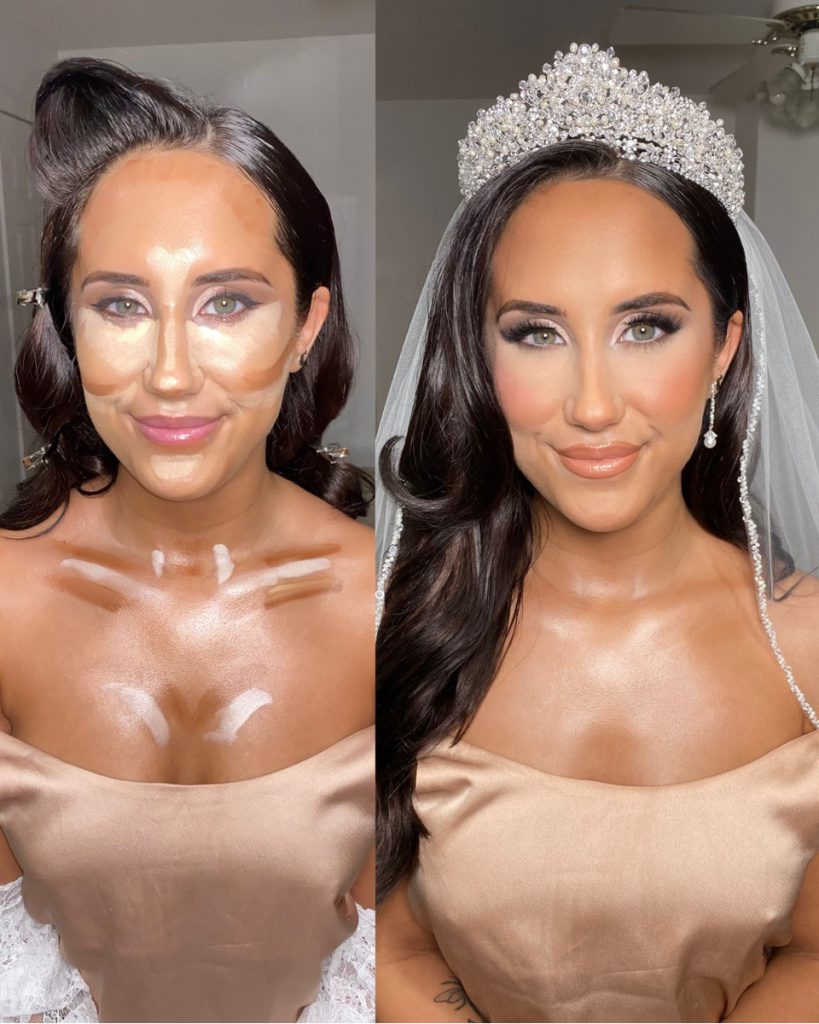 "Natural glam" image courtesy of Monica Case, on Instagram at @monicacase.