Classic or Trendy? Find Out What the Queens of the Castle Would Wear on Their Big Day!
In the world of bridal, there are so many different styles and designers that it can be overwhelming for a bride to make a decision on her dream dress, especially when there are so many gorgeous pieces! We sat down with a handful of our expert bridal consultants to put them in the shoes of all our Castle Couture brides and find out what type of bride they would want to be on their wedding day. We wanted to know what their dream dress is, any advice they may have for a bride who is struggling to make a final decision and so much more!
Meet Christina Dougherty!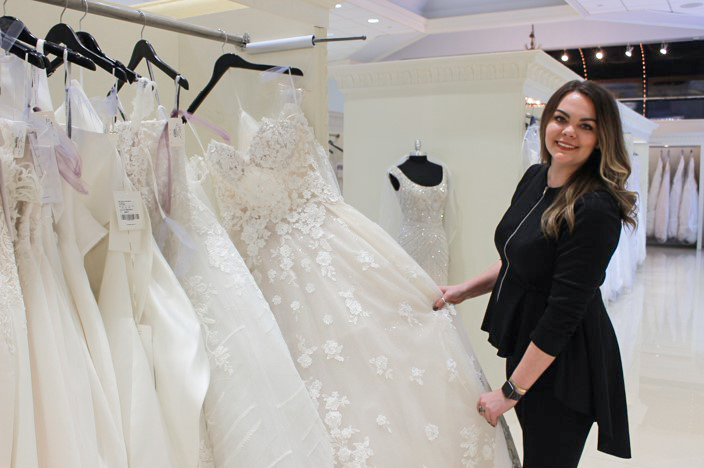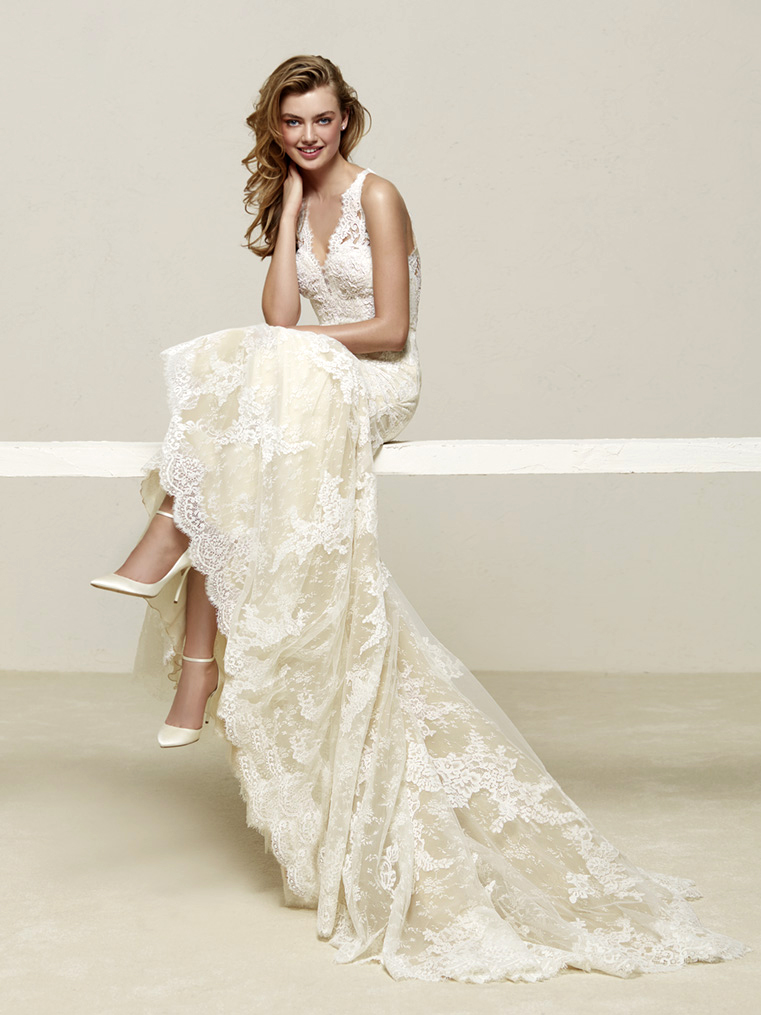 Christina Dougherty is a bridal stylist and team leader here and we had the luxury of chatting with her about all things bridal. When a bride comes in and asks for a "classic" bridal gown, what exactly does this mean to a consultant? What looks come to mind?
Christina explained that throughout her four years of working here, these are the looks that she would pull when getting that request: "When I hear a bride is looking for a more classic bridal gown, the first thing that comes to mind is a clean look. My first gown to pull would be a Pronovias or something with gorgeous, traditional lace that will always be in style." Pronovias wedding gowns are known for their clean lines, beautiful Spanish lace, and timeless looks.
Although a look like this is something you could not go wrong with, not every bride wants to be traditional. Many brides who come in are looking for a gown that will shed light on their personality, be unique, and have the look that's straight off the runway. Christina explained how a trendy gown can truly be something a little more edgy and different. For instance, this can include a plunging v-neck gown, low back, 3-D appliqués, or could even be a gown with a pop of color.
Our consultants are fabulous at what they do and are great at helping our brides find the dress of their dreams, but what happens when they are asked to pick out their dream gown? Christina expressed that her dream dress would be a classic style with a hint of edginess. Her dream dress would be something with long sleeves, a deep v-neck, and she would even love to wear a black bridal gown. (But mama Dougherty would not approve!)
Meet Kristen Lubrano!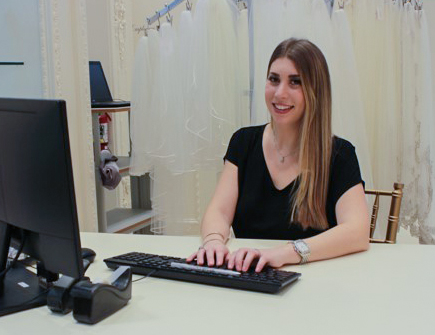 Kristen Lubrano has been with Castle Couture for three years and has already experienced the beautiful chaos of planning her big day. (PS: She bought her gown from Castle Couture even before she started working with us.) What is so interesting about Kristen's thoughts on a classic versus trendy bridal gown is that she would change everything about her big day look! She wore a traditional bridal gown for her wedding, but, if she were to plan her day all over again, she exclaimed that she would go with something much trendier and more fun. "I think if I were to have a vow renewal I would for sure do a lot of sparkles, a detachable train, and even feathers!"
Kristen, just like Christina, feels as though a trendier look would be a dress with color or maybe a sheer bodice, while something more classic and traditional would be an A-line with simple lace. Kristen's best advice for a bride who is struggling to make a decision on her wedding gown would be to pick whatever you feel most beautiful wearing. All of the bridal gowns you try on are going to be gorgeous, but the only thing that matters is what makes you feel the most beautiful.
Meet Jamie Sorrentino!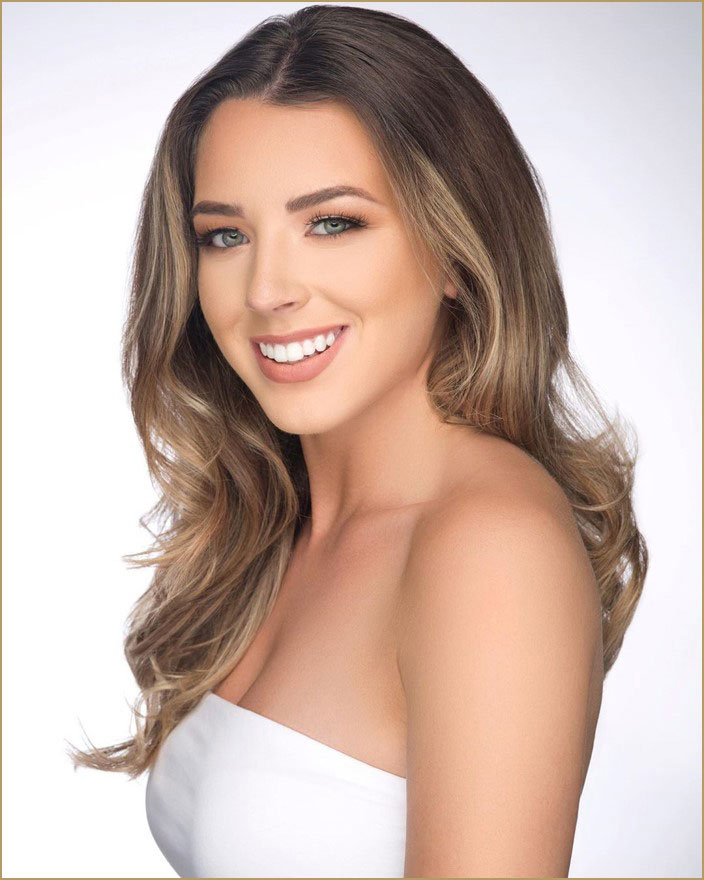 Every bride has their own style and ideal dress for their wedding day and that'swhat makes your day so exciting to plan! So, what makes a classic or trendy bridal gown, according to Jamie Sorrentino, another of our bridal stylists? We spoke with her to see what her thoughts were on this topic. "When I hear someone is shopping for a more classic gown, I automatically think of a clean satin ball gown. But if someone asks me to pull more hot and trendy gowns, I will go for a gown with a cape or something other than white."
When Jamie was asked what her dream dress would be, she explained how she is a complete mix of both a classic and trendy bride. On her wedding day, she would love to have an overskirt with lots of sparkles but still a touch of elegant lace. It can be hard to make a decision on what dress to wear for your big day and is sometimes very confusing. Even Jamie struggled to pick out what she would want to wear when she is a bride one day, so we asked if she had any suggestions for women going through something similar. "Enjoy every moment of dress shopping and bring your most trustworthy friends. We always suggest bringing no more than three guests; just your small core group to help you pick the dress of your dreams."
Meet Amy Townsley!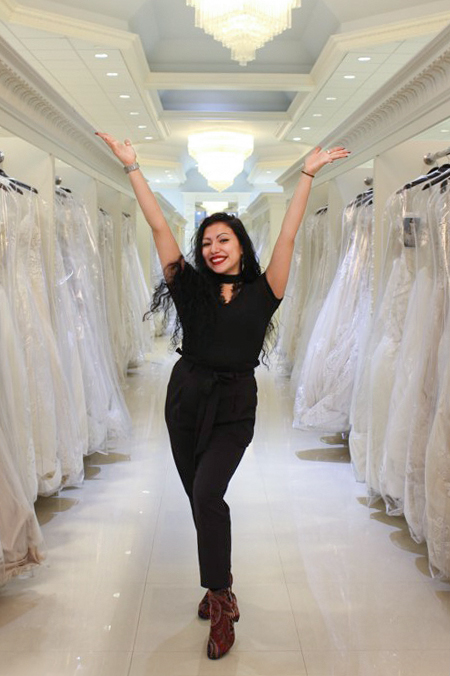 The last bridal stylist we had the pleasure of sitting down with was Amy Townsley. Amy has been with Castle Couture for nearly four years and loves the world of weddings more than anyone you"l ever meet! Amy, just like our other stylists, feels as though she is a mix of both a trendy and classic bride. She would definitely want two looks for her wedding day: The first would be a totally clean-cut look with a gorgeous, off-the-shoulder gown for her ceremony. When it is time for the reception, she wants a fun, sparkly, short dress to spend the night partying in, all while wowing her guests.
It seemed to be an ongoing pattern that our consultants couldn't decide between if they were a more classic or trendy bride and that is totally okay! Not everyone fits within a certain category and that is what makes all of our styles so unique. Amy's advice for any bride shopping for her big day would be to always remember that no one can tell you how you feel. When you are shopping for the perfect gown, nine times out of ten you are going to get this gut feeling of just knowing this is the bridal gown for you. You want to feel the best you've ever felt in any article of clothing and just know this is the gown you want to spend your special day in.
---
Which do you prefer: a classic or trendy bridal gown? Let us know when you call us at 732-617-1414 to schedule your bridal appointment.